Dear Colleagues,
It is our great pleasure to welcome you in Prague for the Morphology 2021 meeting.
This event covers a variety of topics, which connect basic science with clinical applications, as well as new trends in teaching morphological disciplines.
We wish all participants an exciting meeting, complete with many interesting discussions and new scientific interactions.
Ondrej Nanka
On behalf of the Organizing Committee
Important Notice - 7th August 2021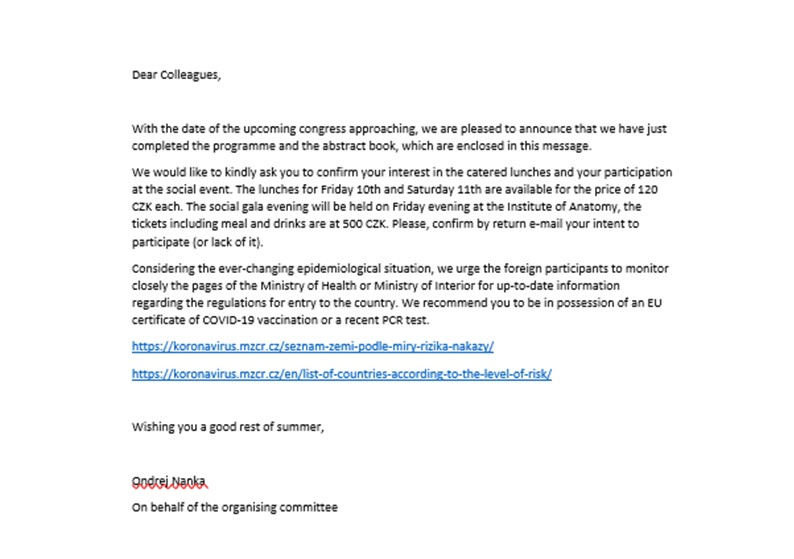 Under the auspices of
Prof. MUDr. Tomáš Zima, DrSc., MBA, Rector of the Charles University
Prof. MUDr. Martin Vokurka, CSc., Dean of the First Faculty of Medicine, Charles University
Honorary Committee:
Ondřej Naňka - President of the Czech Anatomical Society
Jaroslav Mokrý - President of the Czech Society for Cytochemistry and Histochemistry
Karel Smetana - Chairman of the Institute of Anatomy, First Faculty of Medicine, Charles University
Tomáš Kučera - Chairman of the Institute of Histology and Embryology, First Faculty of Medicine, Charles University
Eva Mechírová - President of the Slovak Anatomical Society
Organizing and Scientific committee:
Jan Bartoníček
David Kachlík
Ivo Klepáček
Hana Kolesová
Alena Kvasilová
Tomáš Kučera
Ondřej Naňka
Veronika Nemravová
David Sedmera
Andrej Shbat
Karel Smetana
Karolína Strnadová
Pavol Szabo
Zuzana Vačkářová
Organizing support: